Blog
original art
Prints
cartoon
gren
nezzy
rob nesbitt
wales
welsh valleys
I live in the heart of the South Wales Valleys and currently working on a new range of  Welsh Valleys scenes in my own quirky cartoony style (work in progress as you can see below). The first is of no village in particular but shows, in great exaggerated detail with some of the features we have in this magical part of the UK. I have Christened the village 'Cwmclod', after a former cartoon strip I used to produce for 'The Gwent' –  the Gwent Fire brigade magazine, when I was a firefighter back in the last century!!!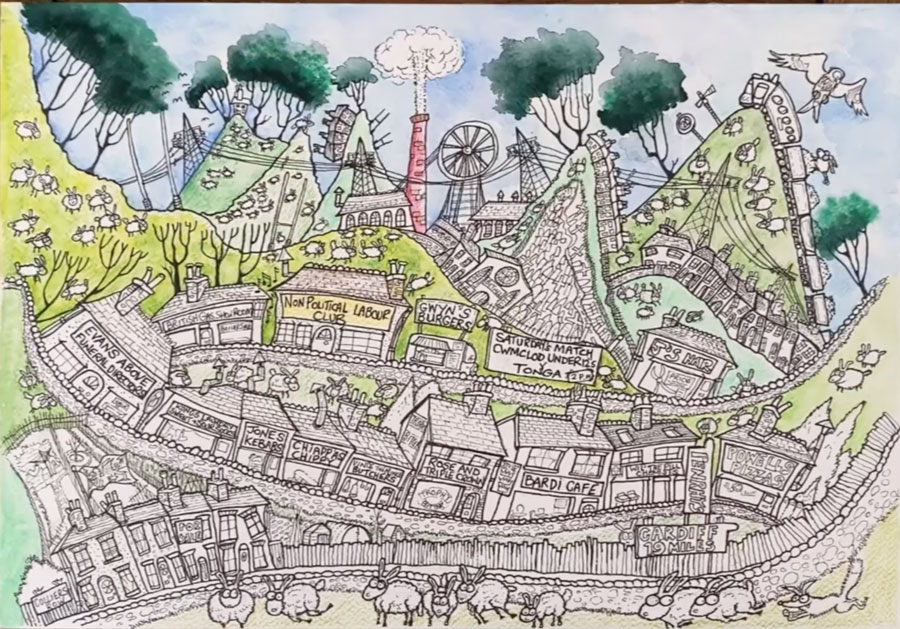 Miners cottages that cling to the hillsides. Shops and businesses that show the proprietors name and a hint of their trade  such as  'Dai' The Death' (Undertaker), 'Arfur Price'  (discount store) and 'Lewis the Logs' (sawmill). Hills full of sheep, Coal pits and  pit head baths (now sadly gone).
Rugby pitches that pop up everywhere, plus the latest infestation, and most talked about subject in Wales – the 20mph speed limit signs. Life in the Welsh valleys was always at a slow pace but the Welsh Government have decided in their wisdom that it wasn't sedate enough!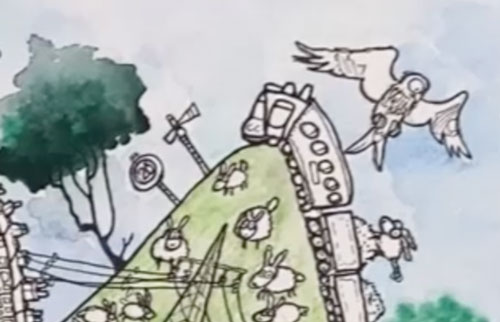 Nothing strightforward in Wales – nothing is on the level – always on the wonk! – Houses, hills and even the sheep list to starboard with  two legs on one side shorter than the other.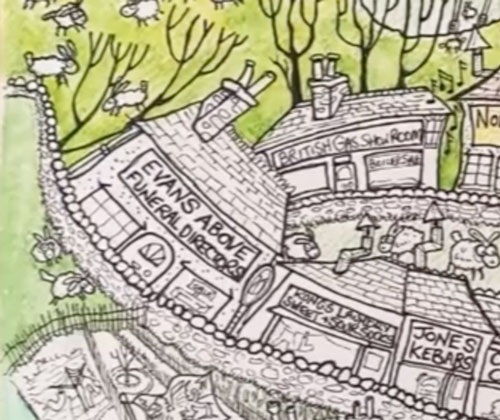 Even the Romans struggled to build straight roads in Wales and some of the streets in old mining communities such as the  Rhondda Valley are so narrow you have to breath in  the pass through!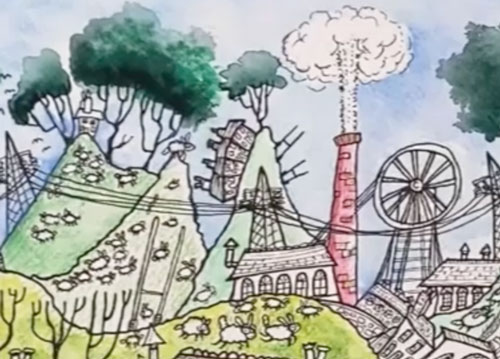 The series will feature landmarks in villages and towns from  all over wales – not just the South Wales Valleys, giving enough essence of the local features and humour without making it a cartoony version of the true scenery.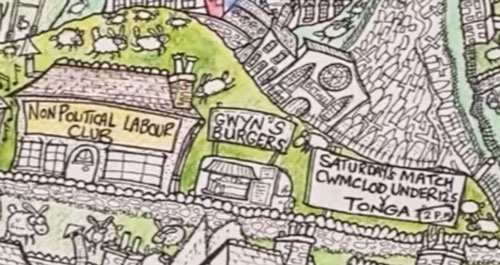 Hope you like the snapshot of my latest project – I am really enjoying this and can't wait to bring some of our fabulous towns and villages to life – cartoon  style.
Original artwork and Signed prints will be available on the Nezzy Design Shop soon!
You can also find me on Facebook and Instagram
Foot Note – GREN 
The great Grenfell Jones MBE, the Western Mail's brilliant cartoonist was the inspiration for this series. A fantastic cartoonist who caught the very essence of Welshness with his cartoons of the Welsh way of life and particularly famous for his Rugby calendars and cartoon strip 'Ponty and Pop'.
I will never come close to his brilliant skill as a cartoonist but am thankful that he gave me the spark for many of my cartoons and has been a huge inspiration.
I spoke to him a few times on the phone and he was so helpful, offering some great advice. He wrote me a lovely letter of encouragement and sent me the collection of his cartoons personally signed with a cartoon of me playing my cornet, which I will alweays treasure! 
You can visit the Gren website here